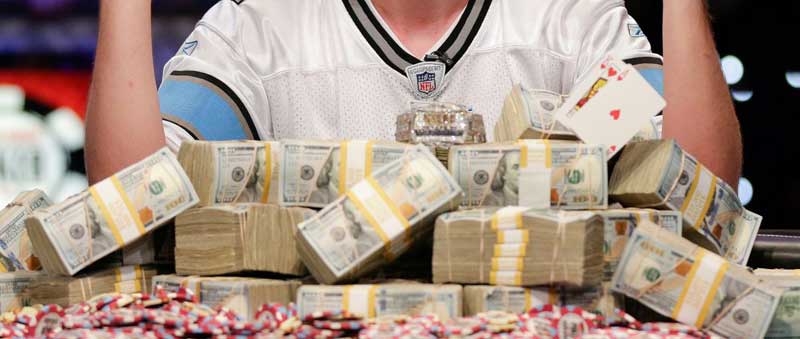 Before reading this article if you are unsure as to what exactly ROI is, please read our article ROI Explained.
No two poker players play the game in exactly the same manner, but there is one thing we all have in common, and that is a desire to make money! Just playing poker is fun, certainly, but it's those occasional big-pot wins that keep us coming back to the felt.
The amount of money you're actually winning at the poker tables is called your rate of investment, or ROI for short. This little number is incredibly valuable. The higher it is, the more successful you are as a poker player. Since I've started playing poker, I've formulated three crucial steps to improving your ROI.
ROI Tips – #1: Fixing Leaks in your Bankroll
A leak in your bankroll is an unnecessary loss of funds. Making bad plays, bad bets, bad moves, basically anything a proper poker strategy would tell you to avoid. Limping in from early position, failing to make the c-bet, calling 40% or more of all hands just to see the flop, these are all very common bankroll leaks.
These small errors may seem like a very minuscule amount of chips going out, but like any leak, it adds up a lot quicker than you might think. When you seal up all leaks in your bankroll, your ROI can actually increase, on average, 5% to 25% almost instantly! That's a lot of poker chips to be throwing away.
ROI Tips – #2: Be Patient
How many times have you heard a story where someone won an enormous amount of money playing poker? Maybe it was $500, $5,000 or even $10,000! Not too many, huh? The truth is a win like this in incredibly rare. Very inspiring, yes, but it can take a long time to get there.
The importance of being patient in your poker game cannot be uttered often enough. You need patience in every session you play, selecting the right starting hands and avoiding the frustration of fold after fold when the cards just aren't coming.
Never become too committed to a single hand when it is an entire tournament that will determine your win or loss in the end. If you have any doubts to your survival based on one hand, let it go. There will be plenty more hands to play.
On a much larger scale, you have to have the patience to work your way up the skill ladder one rung at a time. You can't jump from $1/$2 to $100/$200 and expect the game to be the same. Higher stakes equal more fierce competition, and it progresses with each level of stakes. It's a slow steady climb that takes you to the top.
ROI Tips – #3: Stay to your Bankroll
Whatever your starting bankroll is, buy in with roughly 5% of this. You do not want to stick all of your poker cash in to one game, leaving your poker life to the fate of a single good or bad run of cards. Remember we are executing gambling strategies here, not strictly gambling hoping we double our entire bankroll in one hand.
On one side of the coin, you cannot increase your stakes just because your bankroll went up.
Increasing stakes should be determined by how successful you are, on a consistent basis, at your current level. On the flip side, you may need to decrease your stakes based on the size of your bankroll.
If you have $1,000 to work with, a $200 cash game buy-in is a good start, but if your bankroll drops to $600 or $400, it doesn't take a genius to figure out that you should drops the stakes, and the amount you bring to the table, to ensure the revitalization of your bankroll.