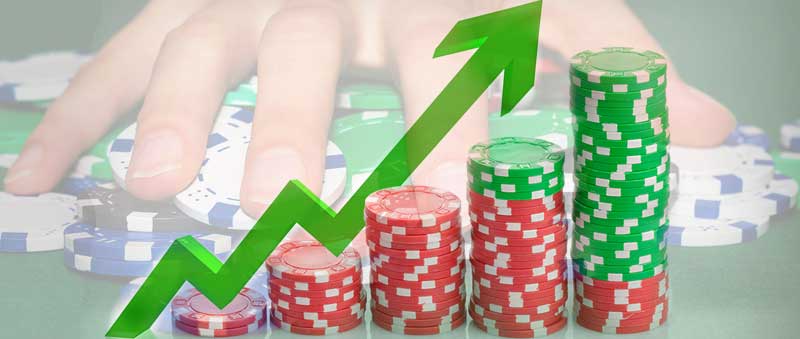 To become a serious poker player you will need to keep track of different stats. These stats can contribute to you finding the many leaks that you may have in your game.
If you are a tournament player it is important to also keep track of how much money you have won, verses the amount of money you spent to win that money.
This is also referred to as your Return On Investment, or ROI for short. For those of you that have never heard of ROI, it is simply a percentage that tells you whether or not you have been a losing player or winning player.
And for your information, a break even player would be someone who has earned 0% of their money back, while anything short of that is losing and obviously anything higher is winning.
For example, if you were to buy into a $5.50 sit n go and you won 4th place and received $5.50 for your efforts, you would have had a 0% return on your money.
How Do You Calculate Online Poker Tournaments ROI?
You will only need two numbers to figure out your ROI. The third number is always the same. For our examples through out this article, we will use a 10 handed sit n go with a buy in of $10 + $0.50 and pays out $50 for first, $30 for second, and $20 for third. What is your return on investment if you won first place?
The equation that you would use to figure out your ROI would look like this:
($ Won-Buy In) / $ Buy In X 100 = ROI
So to figure out your ROI, you would plug in the numbers like this:
($50-$10.50) / $10.50 X 100 = 376% ROI
Third place would look like this: ($20-$10.50) / $10.50 = 90.5% ROI
While these numbers look fantastic, it is important to remember that you need to pull stats from the long term. This will be more accurate in telling you whether or not you are a winning player. For example, what if you played 150 games and only won 2 games? Your 476% ROI does not look so good now, does it? What would your ROI be now?
We are using the same example from above, spending $10.50 for every game that we buy in. This will give us a total of $1575. If we plug in our numbers, this is what our ROI will look like winning only 2 games.
($100-$1575)/$1575(money total spent) X 100 = -94% ROI
Now you have to remember that a break-even player is someone with an ROI of 0%. This shows that this player has lost approximately 94% and puts him in the hole.
ROI and Cash Games
When keeping track of your cash games, ROI will not work because there are too many variables. You can sit down whenever you want, leave when you want, and can bring or leave as much money as you want. There are no set guidelines. So how do you keep track?
Most players will keep track of their money similar to how you count your paycheck from your job; by the hour. If you bring $10 to a cash game and played for an hour, walking away with $18, then you have earned yourself $8 per hour ($18-$10 buy in).
It is important to look at cash games in this manner as tracking it the other way will just simply throw your numbers off.
Figuring how much you made per hour is very easy to do and you can use those numbers to calculate what you made per hour per week, month, or year on average. This is the best way to find out if you are a losing player or not in ring games.
In short, ROI is very important if you want to find out how well you are doing in the long term. If you are playing poker as a hobby, you really do not need to concern yourself with it. And you will find that an average ROI is somewhere in the ballpark of 7-15%.
While this may not seem like a great investment, this is due to the large variances that happen when you are a tourney player.
Now that you have an understanding as to what ROI is in both tournaments and cash games, read these three steps to improve ROI.