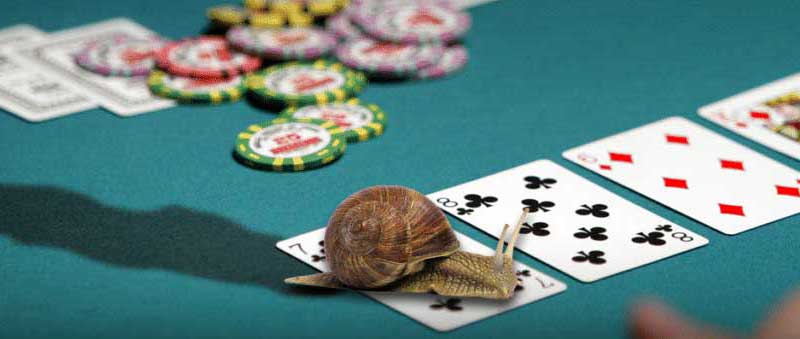 Out of all the joys that a poker player gets, it's the best when you are deceitful, slow playing your hand as if you are weak or maybe 2nd best, only to have had the "nuts" the whole time.
For those of you that do not know, slow playing a hand is where you show weakness all through out the hand, even though you have a strong hand. This can be done by limping in pre flop, checking on all betting rounds, and min raising when you do raise.
And if a player does decide to bet into you, you can just simply "flat call" his raise as if you were on a draw.
By slow playing a hand, you can take control of the pot, and without them knowing it, take control of your opponent as well. But you must use caution, as there is a right and wrong time to do it.
Let's look at an example of a good time to slow play:
If you were on the button with Ac Jc and everyone folds to you, what could you do? Since you are in great position, you can try just limping in here to see a flop.
Now, if you were to do that and the flop comes Ad-Jh-3s, what would you do next?
If the player in front of you checks, you can check as well to let him think you have a weak hand. If he was to raise it in front of you, you could easily flat call this and give off the impression you are on a draw.
Now, regardless of what the turn looks like, chances are you are ahead. It is very likely that this player could have top pair top kicker, giving him false hope on later streets.
This example is slightly exaggerated, but shows several methods of slow playing. You can limp in, check, and flat call, all the while holding a very strong hand. When slow playing however, there are some things you need to consider first to make sure you are not slow playing a hand and trapping yourself.
Things To Consider While Slow Playing
1. The table image that you give off is very important. If you are reraising every hand, shoving constantly, and stealing pots, players are going to be a little bit weary when all of a sudden you decide to slow down. If you want to get crafty all of a sudden, you will need to get there gradually.
2. Analyzing the flop is extremely important. If the board looks like there may be several draws on it, you need to end the hand right then and there if you have a strong hand. It is important to remember that every time you slow play a hand, you are allowing your opponent to draw for cheap or free.
3. Having multiple players in a hand is the same idea as having lots of draws on the board. Multiple players mean multiple opportunities for hands. You are much better of betting for value and even ending the hand if possible.
4. If you are up against an aggressive player that is an excellent time to slow play a hand. They will try to steal pots and bluff you out of your shorts. If you have a good hand, let him try to make him pay.
5. While playing against a tight player, you should not try to slow play because most times "rocks" will not bet unless they have something. You will have a hard time making money against a player like this so you are better of betting into them.
While slow playing a hand is a lot of fun, it takes a smart player to know when the time is right to employ this tactic.
The whole idea of slow playing is like any other betting strategy and that is to extract the most money from your opponent as possible when you have a good hand.
With our insights above, you should be able to make clear cut decisions on when the right time is to slow play your monster.