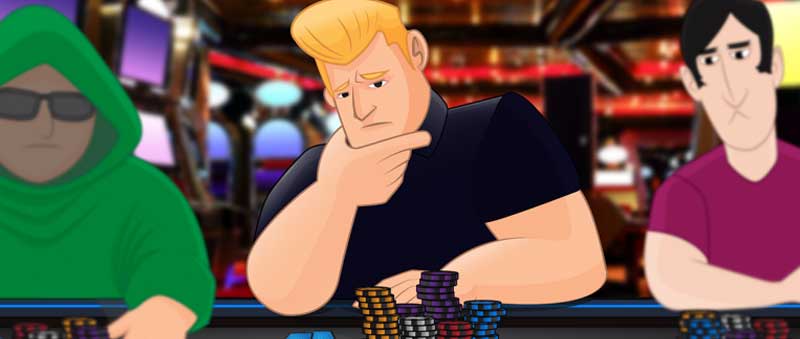 Continuation Betting
The continuation bet is one of the most common bluffs in No Limit Holdem. Say you raise pre-flop in SB with KK out of position, get called by two opponents and then miss the flop. What do you do?
Before rushing in with your stack, there are number of things you should understand before placing a continuation bet.
Size of Continuation Bet?
The bet-size should be roughly ½ pot to full pot size bet although this depends on the types of players you're facing and the texture of the flop.
Wet flops that contain lots of middling cards (7h-8h-10d) have many "outs" and flush/straight draw possibilities. It's easier to clip a piece of these flops which means a successful c-bet will need to be 75% – 100% of the pot to eliminate speculative hands and draws.
Players also need to figure out of the style of their opponent and how easy they'll be to fold off the pot.
Tight aggressive players (TAGs) only call pre-flop raises with premium hands such as 1010+ and AJ+. TAGs tend to hit-and-miss flops (i.e. bet aggressively when they hit, but check-fold ones they've missed) thus a 50% pot raise on the flop will fold most TAG players who've missed the flop – this makes them very profitable to bluff against post-flop.
Loose-aggressive players (LAGs) on the other hand play a wide number of hands with an unknown range of holdings. You'll need to make bigger bets against LAGs in order to make them fold or to even narrow down their holdings.
Whatever the opponents, remember that a ½ pot sized continuation bet only has to work 1 in 3 times to break even.
Flop Texture
One of the biggest mistakes new players make in micro-stakes games of NL25 and below is that they continuation bet the wrong sorts of boards.
Central to the cbet is the principle that your opponent must have missed or at least be willing to fold to a raise. Dry flops with uncoordinated and unsuited cards such as 2h-6d-Js and Ad-2h-7s are the best board to bluff because it's very hard for anyone to hit those boards hard or pick up enough equity to call a raise.
The worst boards to continuation bet are wet flops that are coordinated with many straight and flush draws. Flops that are weighted towards middling cards such as 7-8-10 carry the most risk because as the pre-flop caller you are more likely to hit that sort of flop.
Many LAGs who call pre-flop raises will be holding marginal hands like 7h-6h and 4-4, which means they will get a lot of equity from these flops.
Continuation Betting From Position
Continuation bets tend to be most effective in position. Opponents have a massive disadvantage calling c-bets out of position from the SB or BB because they'll have to act first on each future street and they have the least information. Most players will fold to cbets on missed boards out of position.
Against super-aggressive players however, you also always have to be wary of the re-raise. Aggressive players who've missed the flop will be more inclined to re-raise your c-bet than flat-call it because it represents more value. With marginal holdings I'll often check-call the flop and sacrifice some equity against aggressive opponents in order to stop this from happening.