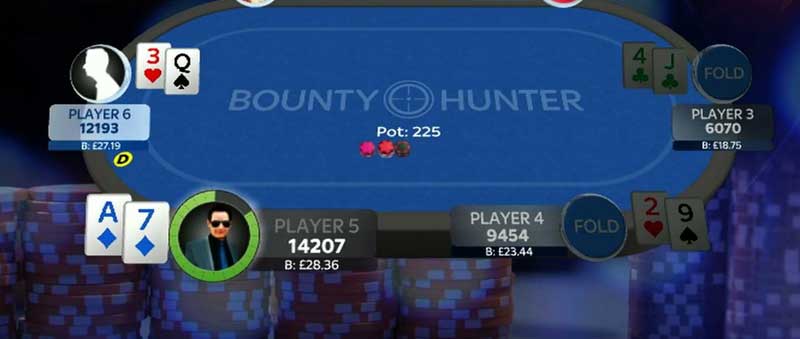 Bounty Poker Tournaments may require this poker tournament strategy.
Bounty tournaments are different than normal poker tournaments because only half of each players buy-in goes to the tournament prize pool and the other half becomes a bounty on each players head.
Since there are two ways to win money in these tournaments you have to adapt your strategy slightly in order to give yourself the best chance to win as much as possible from each profitable possibility.
In this article we will look at how you can try to win other players bounties by isolating short stacks with big hands, seeing more flops against short stacks with mediocre hands, doubling up when you are short stacked and not risking too much for a bounty.
Half of the money in a bounty tournament is won by busting other players from the tournament and earning their bounty amounts. Because of this the hands when a player is all-in will play much differently than in a regular tournament.
In a regular tournament players will usually check the hand down in the hopes of eliminating the short stack player, whereas in a bounty tournament there will often be betting as players try to isolate the all-in player to improve their chances of winning the players bounty.
If you are lucky enough to be dealt a strong hand when a short stack player is likely all-in then you should try isolate the player so that you are the only player with a chance of taking the players bounty. To do this you should make a strong raise that forces other players to risk a good portion of their chips for a chance at taking out the short stack.
If you have been dealt a mediocre hand when a short stack player is all-in you should try to see a flop for as cheap as possible and try to hit a hand.
If the pot has been raised before it gets to you, you should include the bounty amount you could win when calculating the pot odds to decide whether to make the call. This means that you should call a little bit more than you normally would for the chance to take down a bounty.
If you find yourself with a short stack in a bounty tournament you shouldn't be too upset because bounty tournaments are actually one of the easiest styles of tournaments for short stacks to double up and get back in the game.
Since players are looking to collect bounties they are much more likely to call your all-in with subpar hands, which gives you a great chance to double up.
Therefore, you should start thinking about moving all-in once you are down to about 15 big blinds. You should wait for a premium hand to move all-in because there is a greater chance you will be called in a bounty tournament. Of course you will need to increase your range once you get down below 10 big blinds so that you don't just keep blinding away your chips.
Even though bounties are each worth half a buy-in, you should not go out of your way to earn a bounty.
Your main focus should be running deep in the tournament. If you concentrate on this the bounties will come to you. The optimal bounty tournament style is only slightly different from a regular tournament strategy in the ways mentioned above.
Your main goal should be winning the tournament, but if there are some situations where you can try to win a bounty you should by all means go for it.